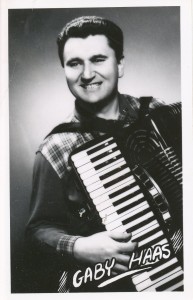 Living in Edmonton during the 1940s to 1970s, you could take pride in the local musician Gaby (Gabriel) Haas, who was making a name for himself on the national music scene. Gaby Haas was a skilled and talented accordion player. In addition, during this period, he was radio host and performer on a number of popular oldtime or country music shows.
Born in Frantiskovy Lázne, Czechoslovakia, on November 7th, 1920, Mr. Haas started playing the accordion at local dances in Saskatoon at the age of 18. This lead to the opportunity to perform on a Saskatoon radio station, CFQC. By 1940 Mr. Haas had relocated to Edmonton, where he became a naturalized citizen in 1943.
Between the period of 1944 to 1958 he had two different radio programs airing in Edmonton, one on CFRN and the other on CKUA. Between 1944 and 1955, the national CBC radio network broadcast both of his local Edmonton radio shows. For more than 40 years Mr. Haas continued to host Continental Musicale on CKUA. He left the program just shortly before his death on November 22nd, 1987.
Starting in 1955, you could see Mr. Haas on several CFRN-TV programs. From 1955 to 1969 he starred in Chuckwagon. Then in 1956 he joined The Noon Show (later renamed the Eye-Opener) that aired five days a week. After Chuckwagon left the air, Mr. Haas became a regular on Country Music, before leaving television in 1974.
Together with his band The Barndance Gang, Gaby Haas recorded prolifically. Between 1950 and his death in 1987, he recorded over 50 albums and 60 singles. The vast majority of these recordings were waltz and polkas, and many were his own compositions. As his fame grew, he earned the nickname Canada's Mr. Polka. Today, some of his original vinyl records sell for over $100.
In addition to being a musician, recording artist, radio host, and local television performer, Mr. Haas was an entrepreneur. When he arrived in Canada he had a large collection of 78 rpm records, which he used to open his European Music Shop record store. He was also part owner and frequent performer at several Edmonton restaurants, starting with the Hofbrauhaus in 1967. Located on 97th Street, it was a very popular dinner club for about five years.
One of regular performers at the Hofbrauhaus was Horst Schmid, who had a German folk dancing act at the time. He also helped manage the restaurant. However, in 1971 Mr. Schmidt left the dinner club to serve in the Alberta Provincial Legislature as the Progressive Conservative MLA for the Edmonton-Avonmore riding.
In the early 1980s, when SCTV was being produced at the Edmonton studios of ITV, John Candy and Eugene Levy created a fictional polka duo, The Shmenge Brothers, which Candy claimed were based on Gaby Haas.
Update November 8, 2016
A high school classmate of mine, Lawrence Herzog, has made a career of writing about Edmonton's and Alberta's history and here is his article about Gaby Haas from the Edmonton City as Museum Project website:
If you've never heard the music of Gaby Haas or just need to hear some of it again, here are two of his recordings. The first is the St. John Waltz, and the second is the Reel des Chaussettes Dorées (or the Golden Socks Reel, if my translation is correct), which is a faster tune. Get your toes ready for tapping.