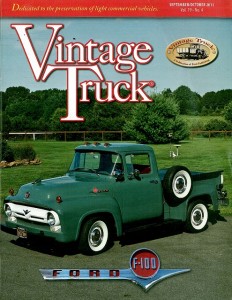 One of the member libraries of the Shortgrass Library System, the Brooks Public Library, subscribes to a wonderful magazine called Vintage Truck. The cover of the September / October 2011 issue is featured to the left.
Vintage Truck is full of beautiful photography, great in-depth articles on repairing and restoring old trucks and detailed historical articles on various types of trucks, from pickups to panel vans to heavy duty trucks.
One of the articles in the September / October 2011 issue discussed a class project at McPherson College, the only school in the United States to offer a baccalaureate degree in auto restoration. This class project restored a 1929 Ford Model A station wagon (a 'woodie wagon').
As the class started on this reconstruction, they "obtained copies of original blueprints for many of the body parts and fixtures from Woody Wagons (P. O. Box 341, McAllen, TX 78505). Tim Johnstone has published more than 400 blueprints for various components in his quarterly Woody Wagons newsletter. The college program also obtained a set of plans, which are available for $40 from the National Woodie Club."
As a fan of old cars in general and woodies in particular, knowing that someone has published blueprints for rebuilding woodies made my day.
Update July 15th, 2014
The Old Woodies website seems to have a lot of good information about woodies and their care. On their site they have a Woodie Resource Directory that features contact information for dealers and vendors of woodies, professional restorers of woodies, clubs for fans of woodies, and even a listing of terminology about woodies. The site even offers a gallery of photos of woodies from around the world.
Update July 21st, 2014
Here are some books about woodies that might be of interest.